Fencing Classes
Black Hills Fencing Club offers instruction in all three fencing weapons. However, we primarily focus on foil for our beginners classes. We offer two classes per year, one in the fall (usually around the first of October) and one in the winter/spring (usually early- to mid-February).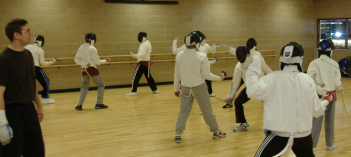 Our primary location is in Rapid City at the RC Aquatics Center; however, we also offer classes at other locations if there is sufficient interest. Classes in Spearfish are hosted at the Spearfish Rec Center, and we also regularly meet at the South Dakota School of Mines and Technology (primarily for Tech students). Other classes have been hosted in Pierre, and the club is open to offering classes in other locations. Contact Us for more details.
Upcoming Classes
No records found. Check back soon as we run classes at least twice per year.