Beginners Class Fall 2019 (Spearfish)
Image: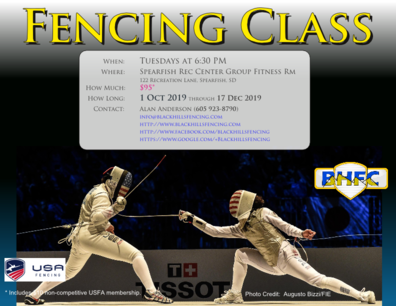 End Date:
Tue, 12/17/2019 (All day)
Location:
Spearfish Rec Center Group Fitness Room (122 Recreation Lane)
This class teaches the fundamentals of the Olympic-style fencing. All instruction and equipment rental is included in the price. The first night is no-obligation, so feel free to show-up to check out the class before commiting. Open to all ages from 10 or 12 years-old and up. Fencing is a life-long sport that challenges both your body and your mind. It is great for all ages, and it is an excellent activity for families to do together.